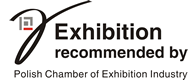 Lots of space for the whole family and a perfect adaptation to off-road driving - a fresh, new look SUV Korando.
These include Alfa Romeo Stelvio and Jeep Compass. There will also be a full range of Fiat Tipo and Abarth 124 Spider.
Soon in showrooms.
400-hp hot-hatch Audi in August will go to Europe.
In the spring we will know its official name.
Soon Honda Civic generation X will debut in Poland. See pictures!
We kindly invite you to visit Poznań International Fair! Here you will find business contacts, novelties and the chance to develop your passions. In the latest issue of Poznan Fair Magazine "Exhibition calendar 2017" we present trade fair events, organized by the International Fair for almost all industries.
We kindly invite you to read the latest issue of "Poznań Fair Magazine". We invite you particulary to read about the GOLDEN MARKETING CONFERENCE, which take place in November. The main topic of this year conference will be neuromarketing, innovation and personalization. PMT readers' interested in participation in the conference can take adventage of special discount.
More news
---

Enjoy Motor Show in Poznań!
Feel invited to another Motor Show edition which will be held on
6-9 April 2017!
Motor Show is the largest automotive event in Poland, full of  the excitement!
Come and see the most beautiful cars, fast motorcycles, exclusive campers and modern trucks.