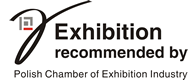 We are presenting you with the latest interactive issue of Poznań Fair Magazine "Calendar of trade fair in 2018". It is absolutely unique publication onto polish market! We invite you to click!
The first vehicles equipped with wireless communication technology (pWLAN) will appear in 2019. Within a few milliseconds, vehicles will keep up to date on traffic jams.
Pope Francis is known for his attachment to modesty and care for the environment. No wonder then, that his latest papamobile was a fully electric Opel Ampera
Sales of electric cars in Europe are growing - not just fully electric but also plug-in hybrids.
With great pleasure we present You the changed Poznań Fair Magazine. We invite You to read both its paper and online version. In this issue we present the distinguished guests who visited Poznań International Fair in the recent months, provide reports on the spectacular construction and furniture industry fair and announce the most interesting events of the next months. And moreover…
Lots of space for the whole family and a perfect adaptation to off-road driving - a fresh, new look SUV Korando.
These include Alfa Romeo Stelvio and Jeep Compass. There will also be a full range of Fiat Tipo and Abarth 124 Spider.
Soon in showrooms.
More news
---

Enjoy Motor Show in Poznań!
Feel invited to another Poznań Motor Show edition which will be held on
5-8 April 2018!
Motor Show is the largest automotive event in Poland, full of  the excitement!
Come and see the most beautiful cars, fast motorcycles, exclusive campers and modern trucks.