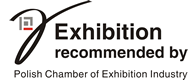 ► CARAVANNING EXHIBITION
The greatest and most attended automotive event in Poland!
The bigest media coverage! 
For years MOTOR SHOW brings together automotive business fascinates tens of thousands of fans.
Caravanning Salon of Motor Show is the largest polish meeting of the industry dedicated both for the clients and professionals. Every year this show give an opportunity to analyze the latest trends in the caravanning business and to get the most important news.

In the opinion of the industry representatives Motor Show Caravanning Exhibition is the most important branch event of the year, which provides a real attraction for enthusiasts of active leisure and also inspires and encourages others to consider traveling in more comfortable conditions. Exhibition is also accompanied by the general caravanning rally, which attracted hundreds of people from caravanning society.
Participation in the Motorcycle Exhibition of MOTOR SHOW is:
Active involvement in polish automotive market development
Opportunity to present your offer infront of a numerous audience
Effective way of promotion
________________________________________________________________________________________

________________________________________________________________________________________
MOTOR SHOW 2015- CARAVANNING EXHIBITION