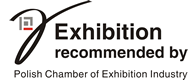 Just yesterday (5.04) most of the cars were hidden under the canvas just to reveal its beauty underneath it for you today!
We are presenting you with the latest interactive issue of Poznań Fair Magazine "Calendar of trade fair in 2018". It is absolutely unique publication onto polish market! We invite you to click!
The first vehicles equipped with wireless communication technology (pWLAN) will appear in 2019. Within a few milliseconds, vehicles will keep up to date on traffic jams.
Pope Francis is known for his attachment to modesty and care for the environment. No wonder then, that his latest papamobile was a fully electric Opel Ampera
Sales of electric cars in Europe are growing - not just fully electric but also plug-in hybrids.