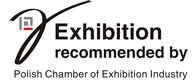 Strategic Partnerof Television


Only during presale you can buy a ticket at a lower price. Do not wait and get a ticket now!
We present You the latest issue of Poznań Fair Magazine. We invite You to read both its paper and online version. In this issue we present the distinguished guests who visited Poznań International Fair in the recent months, provide reports on the spectacular fair and events, and present Arena Hall, which joined the group of objects managed by the Poznań International Fair. And moreover…
Watch our photo gallery from previous edition
The first vehicles equipped with wireless communication technology (pWLAN) will appear in 2019. Within a few milliseconds, vehicles will keep up to date on traffic jams.
Pope Francis is known for his attachment to modesty and care for the environment. No wonder then, that his latest papamobile was a fully electric Opel Ampera
More news
---

Enjoy Motor Show in Poznań!
Feel invited to another Poznań Motor Show edition which will be held on
28-31th of March 2019!
Motor Show is the largest automotive event in Poland, full of  the excitement!
Come and see the most beautiful cars, fast motorcycles, exclusive campers and modern trucks.