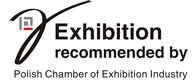 Strategic Partnerof Television

Only during presale you can buy a ticket at a lower price. Do not wait and get a ticket now!
Watch our photo gallery from previous edition
The first vehicles equipped with wireless communication technology (pWLAN) will appear in 2019. Within a few milliseconds, vehicles will keep up to date on traffic jams.
Pope Francis is known for his attachment to modesty and care for the environment. No wonder then, that his latest papamobile was a fully electric Opel Ampera
Sales of electric cars in Europe are growing - not just fully electric but also plug-in hybrids.